Academic Information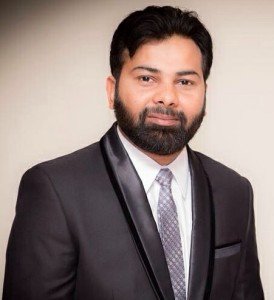 Dr. Hafiz Majid Jehangir graduated (BDS) from de'Montmorency Institute of Dental Sciences Lahore (the supreme institute of dentistry in Pakistan) in 2005. Completed post-graduation (M. Phil) from University of Health Sciences, Lahore in 2008. In addition, he also has couple of diplomas in Dental Implants and Orthodontics (Dip-Implant from Institute of Advanced Dental Sciences Lahore, 2011 and C-Ortho, from Manila, 2015 respectively). Then he completed a 2 years part time Dental Implant Course from Ur' Smile, England. Currently he is working as an Assistant Professor in Azra Naheed Dental College Lahore and Sr. Vice President of Punjab Zone of Pakistan Society of Oral & Maxillofacial Pathology (PSOMP).
Clinical Experience
Dr. Hafiz Majid Jehangir has vast clinical experience from various organizations and institutes. He served Dental Habitat for 05 years as consultant dental surgeon. Now he is running his own poly unit dental setup since last 6 years. He is also a visiting consultant for couple of dental clinics in the town. He is qualified and competent enough to perform the whole range of dental procedure from basic to advanced dentistry.
Teaching Experience
Dr. Majid has been the part of Dental Faculty in FMH (as Sr. Demonstrator for 2 years), SMDC (as Assistant Professor for 07 years) and ANDC (as Assistant Professor for 01 year and still working there). He has the honor to work as Head/In-charge of various departments like Periodontology, Oral Pathology and Implantology. As faculty member he was responsible for teaching and training of the BDS students and patients facilitation.
Hands-on-Workshops
Dr. Hafiz Majid Jehangir has attended multiple Hands-on Workshops such as Basic Cardiac Life Support (2007), Microbiology Workshop (2011), Rotary Endodontics and 3-D Obturation (2011), The Art & Science of Periodontolgy and Dental Implants (2011), FNAC Workshop on Oral & Maxilofacial Lesions (2014), Diagnostic Head and Neck Pathology (2014), Colgate Dental Health month (2014) and Rotary Endodontics (2015), PRF Plug/Membrane and Sticky/Steaky Bone Formation (2017) etc and in some workshops he participated as organizer and trainer. He also conducted a session in Minor Oral Surgery certificate course on Alveolar Socket Preservation (2018)
Publications & Research Work
Research articles of Dr. Majid have been published in the different journals on different dental aspects. He won many prizes in paper presentation, poster competition and table clinics in different conferences. Dr. Majid believes in attending the seminars, conferences and workshops to learn the new techniques, knowledge and advanced dental procedures.